Share the post "Why Sloan From Entourage Is STILL The Wife Every Guy Wants"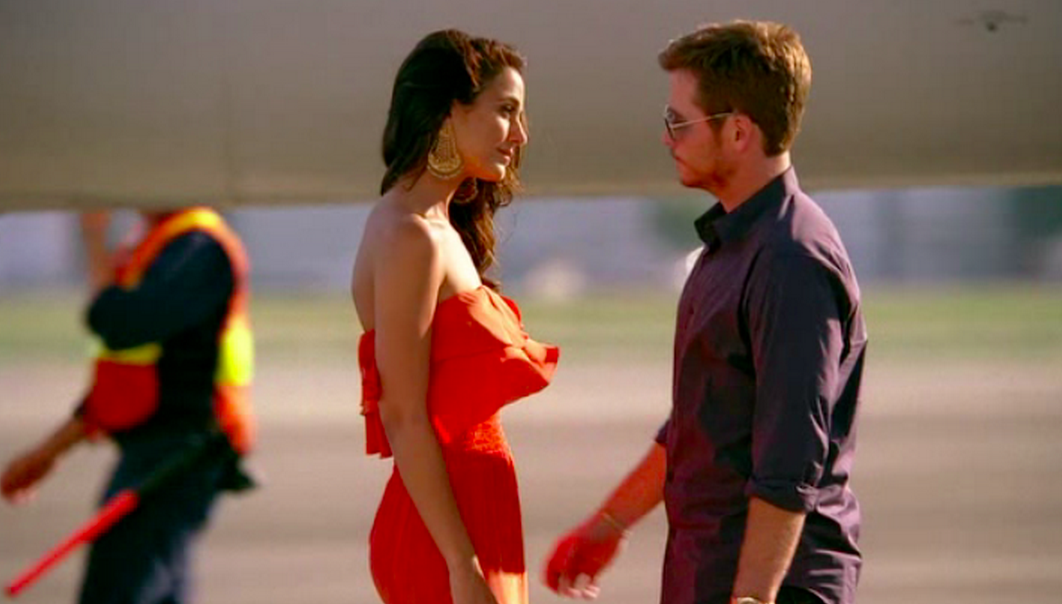 It's completely natural for guys to never get over their first love.
But the fact that "Entourage" has been off the air for almost three years, and I still haven't gotten over Sloan is an entirely different matter.
There's really only been one fictional character to steal my heart with as much vigor as Sloan McQuewick, and that was Adam Sandler's third grade teacher in "Billy Madison." And although Veronica Vaughn is certainly one of the baddest, Sloan might be the one.
I know I don't stand alone here. Anyone who's seen an episode of "Entourage" containing at least one quick "SSS," or Sloan Sex Scene, can attest that, when push comes to shove, Sloan is still the wife every guy wishes he had. For a number of reasons.
Did I mention SSSes? Whenever sh*t gets hot and steamy between Sloan and E, the fine folks at HBO are always the first on-sight with a camera.
For obvious reasons, like avoiding full-fledged pornography, HBO simply won't show a naked Sloan – at least from the front.
Thankfully, for males across America, Sloan was blessed with one of the best sideboob games on the planet, and that we're allowed to see (insert maniacal laugh).
So yeah, for starters, Sloan is drop dead gorgeous – and it extends far past side-vantage-points of her breasts.
Trendy sun hats, one-piece bathing suits, off the shoulder sweaters with the bra strap sticking out — Sloan's style is always on point.
While looks aren't everything, especially with regard to Sloan, they definitely suffice. I mean, I surely wouldn't be complaining.
But Sloan is more than just her looks. She's smart, witty and a great conversationalist. I feel like if Sloan were a real chick, she'd never Instagram her food. She'd sooner talk about something enriching, like prenups. Sorry E.
Oh yeah, she's also filthy rich. Without working. I guess what makes her even more attractive is that she doesn't have to.
Although she doesn't work, she does have a life outside of their relationship. As a result, she doesn't nag E about the little sh*t, and if she does, she wins rather quickly.
She had E wrapped around her finger so tightly that he would've removed his own penis for one more chance to spend his money on her. And I would've probably done the same. Especially if I were E.
The way I see it, Eric Murphy is in a class of his own. Next to Muggsy Bogues' 14-year career in the NBA, as a 5'3" point guard – E cuffing Sloan, for eight seasons, is the most impressive feat ever pulled off by a short dude.
It's not even so much of a knock at E as it is a feather in the cap of Sloan. Their relationship shows that Sloan isn't all about looks. Or height. And whereas I'm sure Vince would've loved the chance to smash Sloan on the regs, she was unwavering in her desire to make it work with his pint-sized best friend. That's loyalty. And that's why we want to marry her.
But we also want to marry Sloan because she is a woman who knows what she wants (even if that happens to be Eric Murphy).
Although their on-screen relationship consisted of nearly as many breakups as there were episodes, she never gave up on her relationship with our guy, E. Also, when they're not together, Sloan becomes the friend who is impossible to actually have, in reality, following a breakup.
To date, only Eric Murphy and Jerry Seinfeld have successfully pulled off this maneuver.
Ultimately, Sloan's charm lies in the fact that she has it all. She's got the looks and the brains. She's got her own money.
She came up surrounded by stars, so she's not impressed easily. Except when it comes to boyfriends, then she settles. Which is great for us.
If only she really existed.
Share the post "Why Sloan From Entourage Is STILL The Wife Every Guy Wants"